South Health Campus lab completes one million COVID-19 tests
South Health Campus lab completes one million COVID-19 tests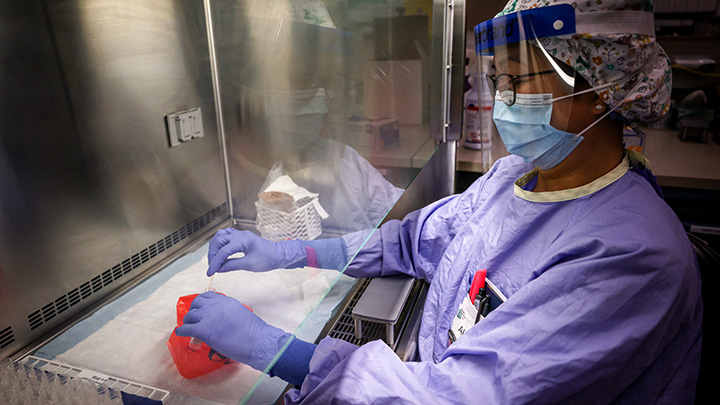 Alma Hinola MLA1 for the COVID-19 testing lab at the South Health Campus in Calgary, AB.
Less than one year after it was conceived, Alberta Precision Laboratories' (APL) cutting-edge lab at Calgary's South Health Campus has completed more than one million tests for COVID-19 — approximately one-quarter of all the tests completed in Alberta to date. Reaching this milestone is the result a unique collaboration that saw government, philanthropic and private-sector partners join forces with APL and Alberta Health Services last year to set up a new laboratory in anticipation of the enormous demand for testing. It has since become a critical part of Alberta's response to the pandemic.
"The South Health Campus COVID-19 lab is a testament to our ability to respond quickly using a true team approach," says Dr. Luiz Lisboa, the lab's lead medical microbiologist. "We have achieved a lot in a very short amount of time, thanks to the support of AHS, our partners, donors and a few visionary individuals who identified early into the pandemic that we were going to need to expand our provincial lab capacity in order to meet the demand for COVID-19 testing."
APL launched Alberta's COVID-19 testing program in February 2020, using in-house tests for the novel coronavirus based on past work analyzing respiratory disease outbreaks. The demand for testing quickly increased after the first positive test was confirmed on March 5, 2020, growing to more than 5,000 tests by the end of April.
Early in the pandemic, Lisboa said lab and public health officials anticipated the exponential growth of the disease and started planning for additional lab resources. The team, including Dr. Deirdre Church, Dr. Thomas Griener, and Supervisor/Project Manager William Martin worked with AHS facilities and supply chain experts to secure space available at South Health Campus and get it set up for safely working with a highly infectious virus.
"Instead of introducing automation as an afterthought, the South Health Campus COVID-19 lab was designed to be a highly automated, high-throughput testing facility from the start," Lisboa says. "It was also built with the concept of contingency upon contingency. We have multiple testing platforms, so that if we have a shortage of supplies one platform, we can be nimble and shift to another that uses different supplies."
They then set to work sourcing the necessary lab equipment for processing COVID-19 samples, which was not an easy task as supplies became scarce with testing programs being launched around the globe. A $1.7 million donation from the Calgary Health Foundation and funding from AHS enabled the lab to acquire its own equipment.
"Our donors are motivated to advance health breakthroughs and this timely investment in expanded COVID-19 lab testing capacity was critical to mitigating pandemic impacts," says Mike Meldrum, president and CEO of the Calgary Health Foundation.
Testing began at the South Health Campus lab on May 11, 2020, with the instrumental support from APL's Diagnostic & Scientific Centre in northwest Calgary. Equipment loans within APL, from research labs at the University of Calgary and University of Alberta, and from Equity Health Services, allowed for testing to ramp up pending the arrival of purchased equipment. The lab is now fully equipped and able to handle up to 10,000 tests per day, with some of the quickest turnaround times for completing tests in the province.
"We are the backbone of COVID-19 testing for the assessment centres in the Calgary region, and we have come up with a number of innovations that accelerate the testing process, saving time and labour" Lisboa says. "We are very proud of what we have accomplished with the support of APL, AHS, and our community, and we feel we are very prepared for whatever is next in this evolving pandemic."
Alberta has completed approximately four million COVID-19 tests on two million people since the beginning of the pandemic. Learn more about Alberta's COVID-19 testing program on our 'Science of COVID-19 Testing' webpage.