Edmonton's Cross Cancer Institute laboratory enhanced thanks to generous donations
Edmonton's Cross Cancer Institute laboratory enhanced thanks to generous donations
May 19, 2021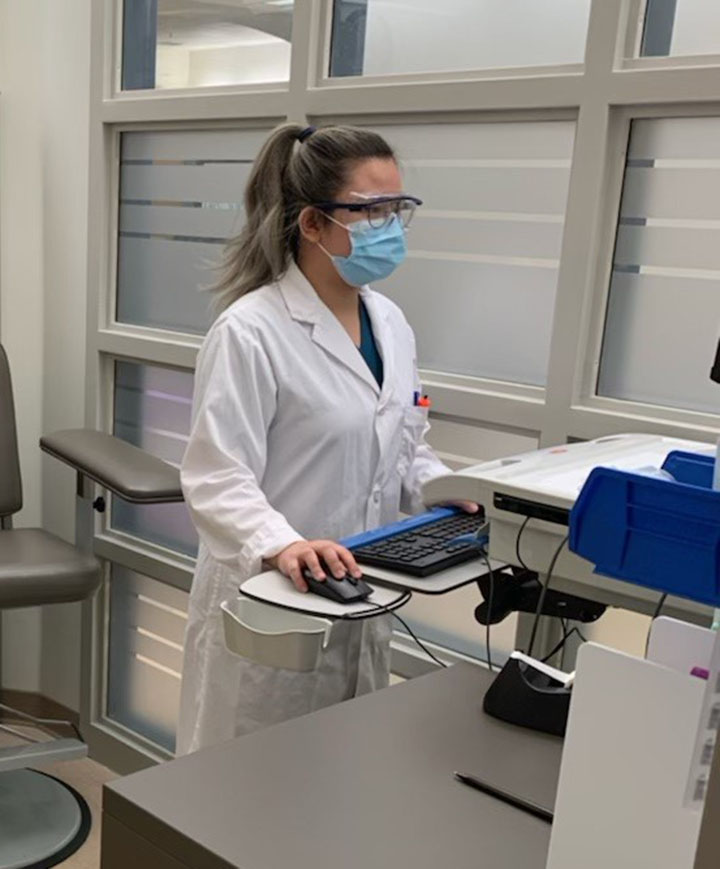 Cross Cancer Institute Lab Assistant, Cynthia.
Expanded capacity and furniture upgrades to the outpatient lab at the Cross Cancer Institute in Edmonton are benefitting patients and lab staff, thanks to a $25,000 grant from the Alberta Cancer Foundation.
"With this funding, we were able to increase our capacity from six patient collection pods to eight, allowing us to maximize our efficiencies at peak hours throughout the day," says Lisa Bourgouin, Clinical Supervisor, APL. "The new chairs, privacy screens will vastly improve the patient and staff experience."
The Alberta Cancer Foundation is an integral partner to 17 cancer centres in Alberta, including the Cross Cancer Institute in Edmonton and the Tom Baker Cancer Centre in Calgary. Through these partnerships, together, we are uniquely positioned to accelerate breakthroughs and bring results to patients faster.
The lab at Cross Cancer Institute was awarded the funding to make improvements as part of the foundation's annual granting cycle. The lab also received funding to replace an integral piece of breast imaging equipment, a Faxitron unit – pathologists use this every day to examine breast tissue specimens for patients living with breast cancer. The grant was offered in 2019 but these upgrades happened between December 2020 and March 2021, due to the pandemic.
"We know the number of people walking through the Cross Cancer Institute doors continues to grow every year," says Wendy Beauchesne, CEO Alberta Cancer Foundation. "We are so grateful to our donors who continue to give to the Cross Cancer Institute often because they or someone they loved received xcellent treatment and care there. These improvements to expand this important lab space is an example of the impact donor dollars have on making life better for Albertans facing cancer."