Taking testing out of the lab to improve patient care
Taking testing out of the lab to improve patient care
June 28, 2021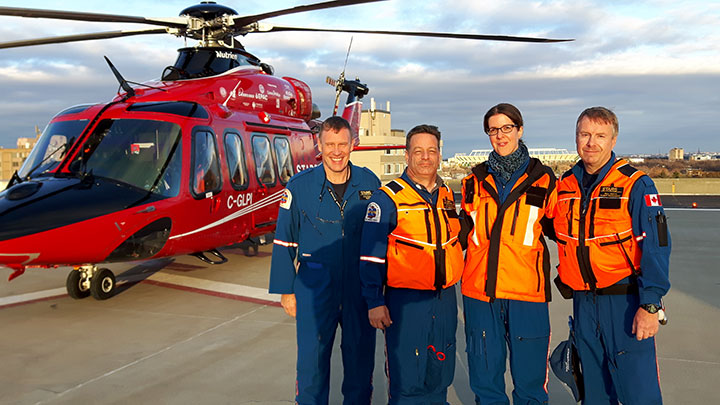 Dr. Anna Fuezery (middle) with STARS Air Ambulance pilots and medical flight crew. (Photo taken pre-COVID19).
Imagine it's a bitterly cold, Alberta winter day with temperatures far below freezing. You and a family member are skiing in the mountains and one of you collapses. The only option for immediate care is by air ambulance to a nearby hospital. A medical crew arrives by helicopter, and after an initial assessment, they suspect the collapse may be because of a stroke.
Paramedics perform an initial workup while flying to the hospital, including diagnostic tests such as blood glucose monitoring that will guide the patient's treatment in the air and provide physicians on the ground with valuable information about the patient's status before they even arrive in the emergency department.
More and more medical tests are being completed outside the traditional confines of the laboratory, with the development of 'point-of-care' testing technology that allows health care teams to speed up diagnosis and make decisions on the spot, instead of having to wait for test results to come back from the lab. Ambulances, hospital wards, and more recently, COVID-19 assessment centres, are among the many facilities incorporating point-of-care testing around Alberta.
Ambulances are one of the most challenging environments for point-of-care testing, with crews being constantly on the move and care being provided in a diverse array of temperatures and weather conditions. Ambulance teams often resort to inconvenient workarounds to provide accurate testing.
Dr. Anna Füzéry, a Clinical Biochemist with Alberta Precision Laboratories, recently co-wrote an article that highlights the need to establish a new standard of care for point-of-care testing performed by ambulance teams.
"Healthcare provided by EMS teams, including on-the-spot diagnostic testing, comes with a unique set of challenges that are infrequently encountered in hospitals," says Dr. Füzéry. "Laboratory medicine professionals and EMS teams need to work together to characterize these challenges and the most effective, safest strategies for addressing them."
Alberta has already begun this work and is doing it on a scale that is unparalleled in Canada and much of the world.
"The next logical step is to develop a provincial guideline that specifies minimum requirements for safe and accurate point-of-care testing in on-the-move healthcare environments, and that provides strategies for meeting these requirements," says Dr. Füzéry. "Such a guideline does not currently exist in Canada or the rest of the English-speaking world, so Alberta has a really unique opportunity to make an impact in this field."
"Very few medical providers manage and support point-of-care testing in such a broad range of healthcare environments as we have in Alberta," Dr. Füzéry explains. "Patients and healthcare providers rely on quality testing from air and ground ambulance teams, and living in Alberta presents a host of challenges that require us to rethink a new standard of care for testing."
Some of Dr. Füzéry's initial findings and recommendations for point-of-care testing in ambulances were recently published by the American Association for Clinical Chemistry. The article identifies an opportunity for national and international standards to be put in place.
For more information about APL's point-of-care testing program, visit Point of Care Testing.