APL goes the distance to keep top triathletes safe
APL goes the distance to keep top triathletes safe
September 3, 2021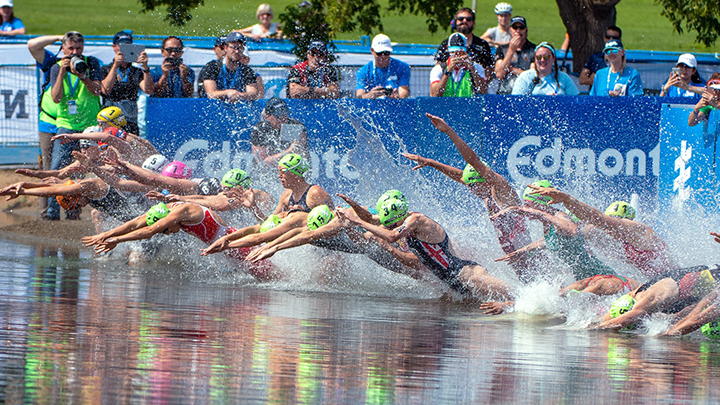 World Triathlon Athletes competed at Hawrelak Park Lake in Edmonton earlier this summer. Photo courtesty of World Triathlon Championship Series.
Lab's water-testing expertise benefits global competitors and Albertans alike
Story by Nicole Ouellet & Grady Semmens
When Edmonton played host to the World Triathlon Championship Finals this summer, the team at Alberta Precision Laboratories' (APL) provincial public health lab were part of the action.
Event organizers with the World Triathlon called on APL to test the water at Hawrelak Park Lake to ensure it was safe for athletes during the swim portion of the event.
"Because the lake at Hawrelak Park isn't used for such sporting purposes on a regular basis, it's very important to test the water to ensure the athletes stay safe throughout the event," says Maria Falsetti, clinical supervisor, Public Health Laboratory, North Sector.
APL tested the waters in partnership with Alberta Environment and AHS Public Health. Staff in the provincial lab's Environmental Microbiology team employed sensitive molecular techniques to test the water for any bacteria. Testing took place prior to and throughout the event, with results available within hours of sample collection. Had samples shown bacteria levels above a certain threshold, then Public Health would have been advised and measures put in place.
Sheila Findlay, competition manager with the World Triathlon Championships, says the partnership with Alberta Health, APL and Alberta Environment has been seamless over the years since the World Triathlon series first came to Edmonton in 1999.
"We are very grateful to our government and community partners to ensure our athletes stay safe and healthy — always a top priority, especially for an event like ours," says Findlay.
Outside of testing water for international events, APL — along with Alberta Health, AHS Public Health, Alberta Environment and Parks and First Nations and Inuit Health — also test more than 80 recreational beaches and lakes throughout Alberta on a weekly basis from May to September to ensure the water is safe for swimming.
"This highlights the importance of a one-world health approach and shows significant team effort required by many different professional groups within the Province of Alberta to maintain the health and safety of all Albertans," says Dr. Mathew Diggle, clinical microbiologist with APL and Environmental Microbiology program lead.
Molecular water testing is a relatively new technology in Canada, and Alberta is one of the few provinces to provide this kind of testing, which produces more accurate results with a faster turnaround time than traditional culture-based testing.