Cutting-edge equipment to improve lab tests for Albertans
Cutting-edge equipment to improve lab tests for Albertans
March 3, 2022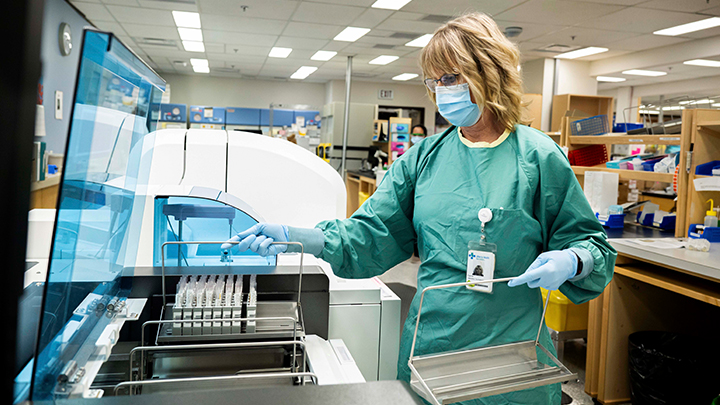 Alberta Precision Laboratories staff work on newly installed Roche chemistry analyzers at Red Deer Regional Hospital Centre.
Alberta Precision Laboratories partners with Roche on rollout of chemistry analyzers
Story by Grady Semmens | Photo by Evan Isbister
State-of-the-art equipment to process the bulk of Alberta's routine lab tests is being installed across the province in an effort to provide higher-quality lab results while saving the healthcare system millions of dollars per year.
Alberta Precision Laboratories (APL) has partnered with Roche Diagnostics Canada to upgrade the automated chemistry analyzers in APL's centralized testing labs that are based in hospitals around Alberta. It's the first time in Canada a standard set of equipment for analyzing routine blood tests is being rolled out on a provincial scale, leading to more consistent and efficient processing of the tens of thousands of patient samples APL handles every day.
"Partnering with Roche Diagnostics is another example of how Alberta's integrated lab system is providing higher quality and a more efficient laboratory service across the province," says Dr. Verna Yiu, president and CEO of Alberta Health Services. "APL continues to show strong leadership when it comes to finding innovative approaches to enhance the level of care for all Albertans, while ensuring our healthcare dollars are spent as effectively as possible."
Roche instruments will be used in 16 regional testing labs across the province. Installation is complete at four sites so far — Red Deer Regional Hospital Centre, Chinook Regional Hospital in Lethbridge, Grande Prairie Regional Hospital and Calgary's South Health Campus. APL's centralized testing laboratories — often referred to as 'hub labs' — are where lab samples collected from patients in the community are sent for analysis, with results typically available within 24 hours from the time of collection.
The partnership is the result of a competitive request-for-proposals process initiated in 2020 to standardize chemistry analyzers across APL's high-volume testing sites. Approximately 80 per cent of Alberta's routine lab work will be completed on Roche equipment when the project is complete later this year, providing higher quality and greater consistency in lab testing for Alberta patients.
"Centralized processing and testing of routine lab tests will ensure that patients across Alberta will have their lab work completed on the latest technology, providing high-quality healthcare across the province regardless of where they live," says Tammy Hofer, APL's chief operating officer.
"As the first in Canada to standardize provincial lab equipment, we want Albertans to feel proud of their healthcare system and we hope to inspire other provinces across Canada to follow the same approach."
Upgrading and shifting to a single platform for chemistry analyzers at hub labs also provides other benefits, including reduced training requirements and less repetitive manual labour for lab staff. APL also anticipates it will save more than $5 million per year on chemistry analyzer materials and supplies through a provincewide contract.
"The implementation of Roche solutions will increase automation in routine lab testing, allowing staff to focus on more important tasks," says Andrew Plank, president and general manager at Roche Diagnostics Canada.
"Standardizing lab analyzers will reduce training requirements and allow for more flexibility and efficiency for staff to be able to work at different sites without having to learn new processes and work with different instruments."
Alberta's public lab system has more than 20 years of experience working with Roche, and this new partnership is also expected to enhance ongoing collaboration with APL on public health research and innovation.
"Our partnership with APL goes beyond providing the latest technology in laboratory medicine to clinicians across the province," says Michele D'Elia, Roche's executive director, medical and scientific affairs.
"Building on past research collaborations with APL scientists, this renewed and expanded collaboration allows us to engage in additional work looking to generate evidence to better understand the role of key biomarkers and improve care delivery."
---
For more information, see the News Release "Improving Alberta's patient care: Alberta Precision Laboratories and Roche Diagnostics join forces to ensure accurate diagnosis and time saving through provincial integration and standardization of lab equipment." issued by Roche Diagnostics Canada and Alberta Precision Laboratories.