Emily says bye-bye to her fear of needles
Emily says bye-bye to her fear of needles
April 8, 2022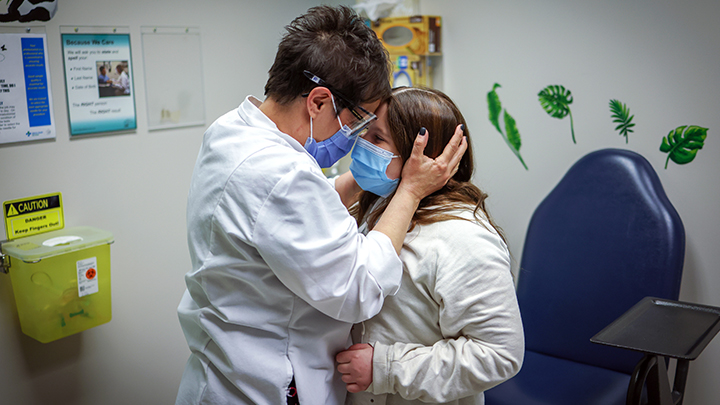 Lab technologist Jo Martin gives 10-year-old Emily a hug, reinforcing their unmistakable bond. Getting bloodwork done used to be a traumatic experience for Emily, but today she looks forward to her visits.
Kids put at ease by Commitment to Comfort program at Alberta Precision Labs
Story by Nicole Ouellet & Grady Semmens | Photo by Leah Hennel
When Emily McKervy was diagnosed with cancer two years ago, she and her family were filled with fear and uncertainty about what lay ahead. But for the 10-year-old, the scariest part of the diagnosis was learning that she would need blood work as part of her ongoing treatment and care.
Like many kids, she was terrified of needles and couldn't bear the thought of regular visits to the lab. "At first I was so scared, I didn't want to go to the lab," she recalls. "My parents would have to hold me … and I would cry all the time."
Their first attempts at getting the necessary blood tests were very difficult and not always successful, adds Emily's mom, Jocelyn McKervy.
"Going to the lab was a traumatic experience involving multiple attempts, multiple people to help hold her still, and lots of tears," says Jocelyn.
But then they met Joanne (Jo) Martin at Alberta Precision Laboratories' (APL) patient service centre in Cochrane — and things started to change for the better.
"Jo was the first person in my daughter's medical journey to truly connect with Emily," Jocelyn says. "In the beginning, the whole family would spend upwards of an hour with Jo at each lab appointment. Jo would talk to Emily, play games with her, and started teaching her breathing techniques to relax — and it made a huge difference."
While it's true that blood tests are quick, safe and usually painless, they're not always easy to face. That's because many of us suffer from a phobia of needles (trypanophobia) or blood (haemophobia). If you have fears or worries about needles, you're not alone. More than 25 per cent of adults and 60 per cent of children have a fear of needles.
To help patients young and old deal with their fear, the medical lab technologists at APL receive specialized training to help patients reduce their stress and feel better about their lab experience.
Lab techs work with patients to develop a 'comfort plan' — various options and strategies to combat needle anxiety — which they refer to as their 'toolbox.'
For example, patients can choose to use numbing cream, positioning options or distraction techniques — and even something as simple as positive language can help.
These guiding principles make up the Commitment to Comfort program, which began at the Alberta Children's Hospital and is now used at many APL locations throughout Calgary and in AHS immunization programs.
"When Emily first came here, I didn't think there was any chance we would be able to get the bloodwork needed to monitor her condition," says Martin. "But we worked through it together, and where we are now compared to a year ago is like night and day.
"Seeing Emily go from kicking and screaming when coming in for bloodwork to being able to sit and just talk about our day together has been so rewarding to see. I care about Emily so much and I'm very grateful to be able to help her on her journey."
Two years have flown by, and today bloodwork and needles are no longer stressful for Emily.
"Now I ask my mom: 'When do we get to go to the lab and see Jo?'," says Emily. "Jo is awesome, she's helped me feel better about going to the lab. My whole family and I will always be grateful for Jo. She's the best!"
---
Visit APL's website for more information on pediatric lab work and the Commitment to Comfort program.