Serving a dual role all in a day's work
Serving a dual role all in a day's work
October 18, 2022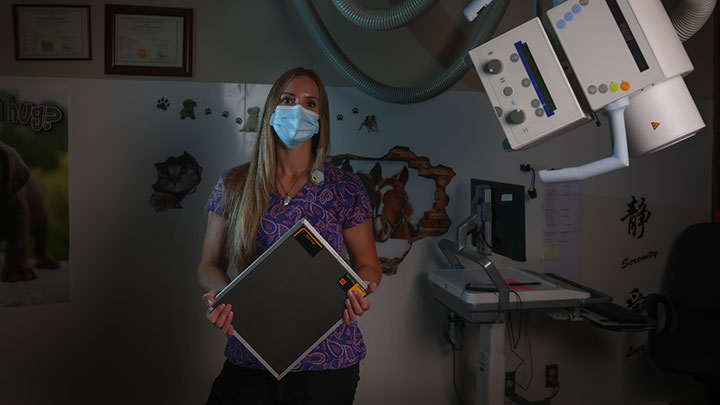 Marissa Jenkins has worked as a combined laboratory and X-ray technologist (CLXT) at Didsbury District Health Services for a decade. Alberta is home to almost 600 CLXTs, the largest number in the country. Photo by Leah Hennel.
Combined lab and X-ray technologists bring specialized skills to rural Alberta
Story by Shelley Boettcher & Kelly Morris | Photo by Leah Hennel
A talented group of healthcare workers bring a valuable blend of skills to Alberta Health Services (AHS) and Alberta Precision Labs (APL) when it comes to laboratory and X-ray services.
Combined laboratory and X-ray technologists (CLXTs) make a positive impact on our patients and communities every day — especially in smaller rural communities and more remote areas — by providing increased access to testing, diagnosis and treatment closer to home.
With almost 600 CLXTs, Alberta is home to the largest number in the country.
Marissa Jenkins has been a combined laboratory and X-ray technologist with AHS in Didsbury for the past 10 years.
"As a kid, I always wanted to be 'doctoring people', as my family would say, and fixing people's injuries," she says. "But I didn't want to be a doctor because there are too many years of school. A combined laboratory and x-ray technologist position seemed like a seamless fit for me."
Her Didsbury colleague, Shayla Derr, says she loves to help people.
"I've always been super-passionate about helping people, but nursing wasn't a good match for me," she adds. "Being a CLXT is the perfect fit."
Derr says she also enjoys the range of experiences that come with being part of a rural healthcare team as she works with patients in acute care, emergency and long-term care as well as outpatients, too.
"You work with the nurses. You work with doctors. You work with all the teams. You're not bored, ever."
---
During Combined Laboratory and X-ray Technologists (CLXT) Week, Oct. 16 to 22, Alberta Health Services celebrates CLXTs across Alberta.