Lab staff step up to assist Indigenous neighbours
Lab staff step up to assist Indigenous neighbours
November 4, 2021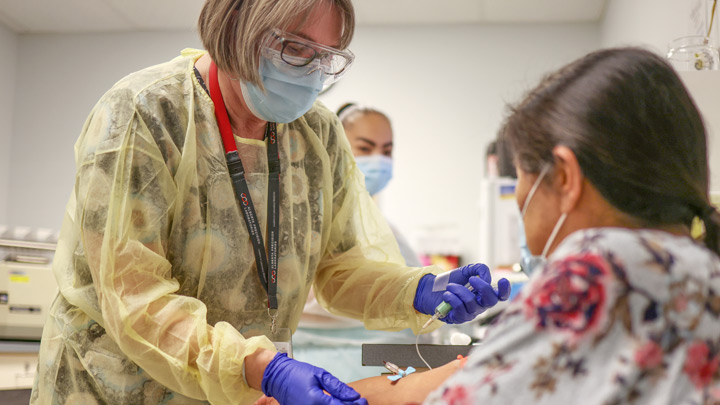 Denice Dery, a medical lab assistant with Alberta Precision Laboratories, performs a blood collection on a patient at Stoney Health Services in Morley.
APL team works alongside Stoney Health Services during staff shortage
Story by Grady Semmens | Photo by Leah Hennel
As a mobile medical lab assistant, Denice Dery is used to being on the move and working in a wide range of settings across Calgary. Her love of meeting new people and bringing healthcare directly to those who need it is the reason she jumped at the chance to spend some of her days off working on the Stoney Nakoda First Nation this fall.
"I just love being on the mobile lab team because it gets me out into the community and every day is different," says Dery, a 15-year veteran of Alberta Precision Laboratories' (APL) Mobile Collection Service. "When I heard that Stoney Health Services was short of lab staff, I thought it would be a great opportunity to try something new and help out our neighbours at the same time."
In October, Stoney Health approached APL for assistance providing routine blood test collections after their full-time lab employee moved out of the province. Knowing that it could take several months to hire a new lab technician, Dery and three other medical lab assistants from APL are filling the gap two days per week, in addition to working their regular jobs in Calgary.
"It's great to have the support of highly skilled lab staff who could come in and seamlessly continue providing the lab work our community members need. It can be a life saver for Nation members — particularly those who don't have vehicle access and would find it very difficult to travel to Cochrane or Canmore to get their tests done," says Darlene Richter, the community health nurse manager.
Located in Morley, about 90 km west of Calgary, Stoney Health Services is a non-profit organization that provides a wide range of health and wellness services for more than 6,000 Stoney Nakoda Nation members who live on or near the reserve.
Dery and her colleagues expect to work on contract until the end of the year while Stoney Health searches for new staff. They typically perform about a dozen blood collections over the course of a five-hour shift, and prepare patients' samples for pickup by APL's courier to labs in Canmore and Calgary for analysis.
"It's really interesting to work in a new environment," Dery adds, "and it feels good knowing I can help this community in these difficult times."
---
APL is also actively recruiting for a wide range of medical lab positions in rural communities across Alberta. For more information, visit Career Opportunities.